ANZAC day 2020
The Sanctuary on ANZAC day 2020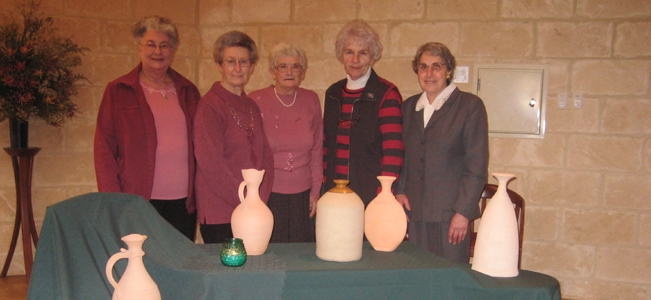 World Day of Prayer
World Day of Prayer at Christ the Living Vine Church Jan, Norma, Joan, Rosemary & Elena
Holy Hour
Holy Hour is held each Friday from 8am to 9am.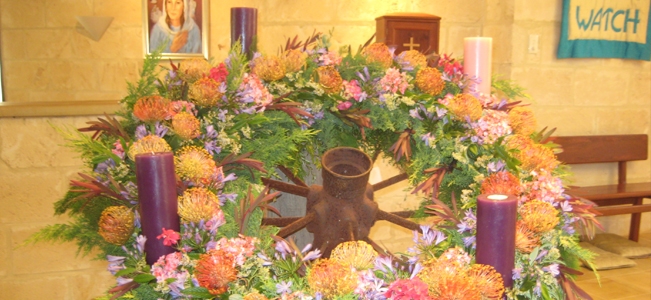 Advent
Advent wreath
Palm Sunday
Palm Sunday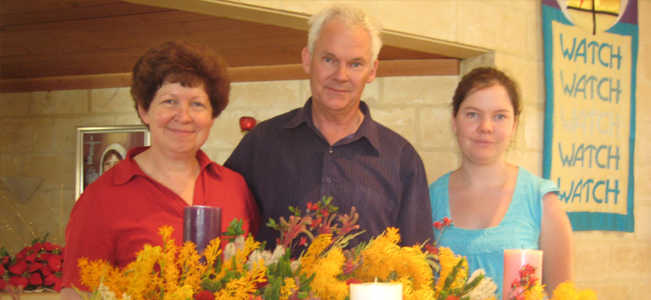 Advent Wreath arrangers
Gwenda, Richard & Lauren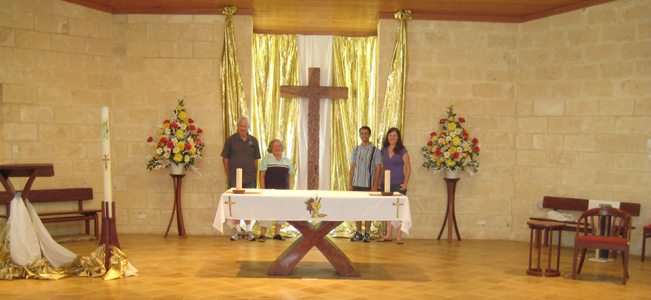 Easter Sunday decorators
Richard, Marisa, Elias & Lauren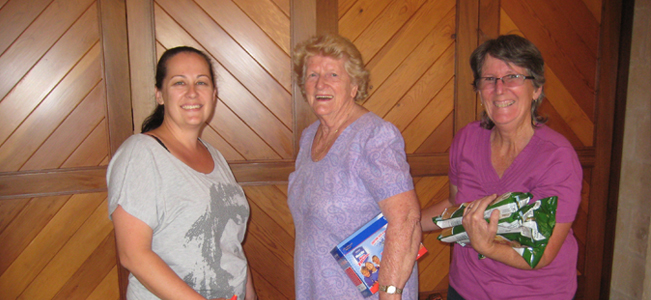 SVDP Christmas Hamper Workers
Linda, Pam & Kerry
Upcoming Events

Lunch with friends
Read More »
Parish Information
Mass Times: Sat 6:00pm / Sun 8:30am
Reconciliation: Saturday 5:30 - 5:45pm
Liturgical Year:
Year A
Liturgical Week:
30th Sunday
This Week's Readings:
Exodus 22:20-26 Thessalonians 1:5-10 Matthew 22:34-40
WELCOME
For on-line Masses click HERE Please note that during our First Eucharist weekends, we will not be recording Mass.
Links to the Letters from the Bishops of Australia can be found on the Pulse of the Parish tab.

COVID-19 Phase 4 Update
We have reverted to our normal two masses (Saturday at 6pm, Sunday at 8.30am). Our Saturday evening mass will be available on our You-Tube channel this week, but as Mass attendance increases this is being reviewed on a weekly basis. Our attendance numbers are still within the regulated levels, and physical distancing is aided by the closure of every-other pew.
We are looking forward to seeing you all back, but please DON'T COME TO MASS IF YOU ARE UNWELL.
All those attending any service at church will be required to:
observe the physical distancing rule of 1.5 metres
sanitize their hands in the church foyer
wipe the benches (including handrails) on entering and leaving (wipes provided)
The Bishops have recognized the difficulties here and have extended the dispensation from the Mass obligation for the time being.
Please continue to stay safe, 1.5m apart, and wash hands frequently!
***
Our Mission Statement
We the family of Christ the Living Vine, Leschenault, as followers of Christ, inspired by the Holy Spirit, strive to create a community of Christian love.

We will joyfully endeavour to reach out to meet the needs of those in our Parish and beyond in a spirit of love, acceptance and compassion.

"I am the Vine, you are the branches." (John 15:5)