Easter
The Sanctuary at Easter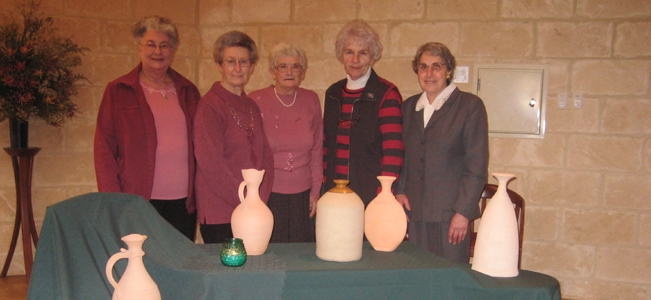 World Day of Prayer
World Day of Prayer at Christ the Living Vine Church Jan, Norma, Joan, Rosemary & Elena
Holy Hour
Holy Hour is held each Friday from 8am to 9am.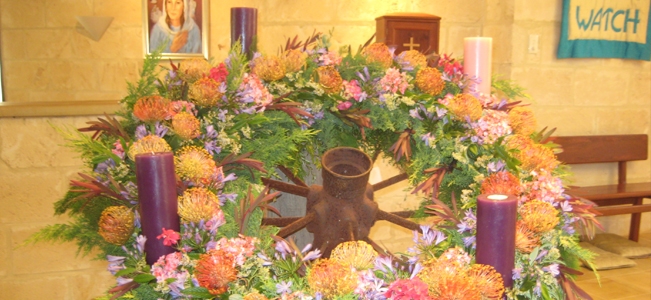 Advent
Advent wreath
Palm Sunday
Palm Sunday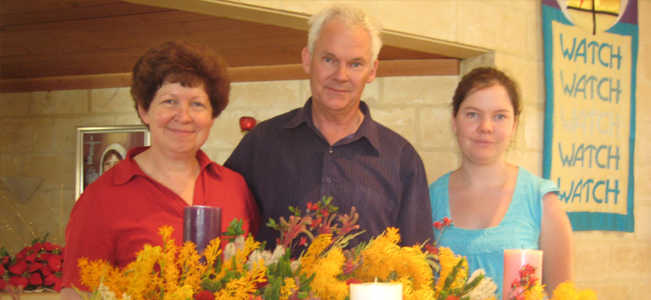 Advent Wreath arrangers
Gwenda, Richard & Lauren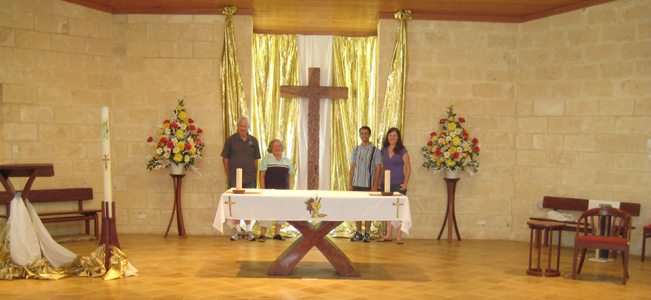 Easter Sunday decorators
Richard, Marisa, Elias & Lauren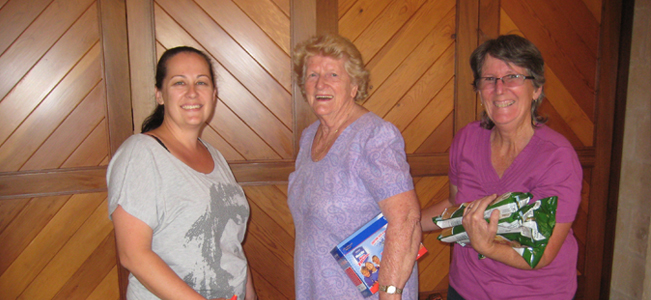 SVDP Christmas Hamper Workers
Linda, Pam & Kerry
Upcoming Events
There are no currently no events.
Parish Information
Mass Times: Sat 6:00pm / Sun 8:30am
Reconciliation: Saturday 5:30 - 5:45pm
Liturgical Year:
Year A
Liturgical Week:
14th Sunday
This Week's Readings:
Zechariah 9:9-10 Romans 8:9, 11-13 Matthew 11:25-30
WELCOME
Our After School Sacramental Program is about to start. If your child attends a state school and you would like them to follow the Catholic faith please complete the Registration Form and return it to the Parish Office.
For Masses click HERE
Apologies to everyone who has tried to contact us in the last week. We had issues with the domain name (leschenaultcatholicparish.com.au), which have now been resolved - so our email is back working and we have uploaded last weeks bulletin as well as this weeks in the section to the left.
COVID-19 Phase 4 Update
We will continue having 3 masses during phase 4, and our Saturday evening mass will continue to be available on our You-Tube channel, at least until Phase 5 is implemented. Our attendance numbers are still within the regulated levels, and physical distancing is aided by the closure of every-other pew.
Saturday at 6pm, Sunday at 8.30am and Sunday at 10am.
We are looking forward to seeing you all back, but please DON'T COME TO MASS IF YOU ARE UNWELL.
All those attending any service at church will be required to:
observe the physical distancing rule of 1.5 metres
sanitize their hands in the church foyer
wipe the benches (including handrails) on entering and leaving (wipes provided)
The Bishops have recognized the difficulties here and have extended the dispensation from the Mass obligation for the time being.
Please continue to stay safe, 1.5m apart, and wash hands frequently!
Please see the RESOURCES tab above for a range of different options for on line mass, reflections and prayers.
***
Information from the Diocese (the Bishop's Letters) can be found on the Cathedral website HERE.
Our Mission Statement
We the family of Christ the Living Vine, Leschenault, as followers of Christ, inspired by the Holy Spirit, strive to create a community of Christian love.

We will joyfully endeavour to reach out to meet the needs of those in our Parish and beyond in a spirit of love, acceptance and compassion.

"I am the Vine, you are the branches." (John 15:5)